Eight time Champion at the Gerry Weber Open, Roger Federer, will face NextGen superstar, Alexander Zverev, in Sunday's showpiece final in Halle. Zverev is making his second successive appearance in the final of this tournament after finishing runner up to an inspired Florian Mayer last season. On his way to the final last year, Zverev ousted Roger Federer in a tight three setter in the semis. Can he do it again this year is the question.
Perfect Final 
Both players have a perfect 3-0 win-loss record in finals this season. Zverev has captured titles in Montpellier, Munich and Rome. His impressive run at Rome was much talked about as he beat Novak Djokovic in straight sets in the final. Federer, on the other hand, captured his staggering 18th major title in Melbourne, backing it up impressively with the sunshine double.
Story so far
Federer was made to work hard in the semis by another one of those NextGen rising stars, Karen Khanachov. Federer fought off two set points in the second set, to prevail in the tiebreaker. It was a perfect preparation for Federer for a final against Zverev as the young Khanachov fired big forehands and backhands along with his massive service much like Zverev does.
Zverev came back from a set down against both, Agut and Gasquet, showcasing mental resilience to make it to the final. His game has improved this year and many are predicting at least one Grand Slam to the name of the young German in future. He will be hoping to become the youngest winner in the tournament's 25 year old history, whereas Federer will be aiming to capture a record extending 9th Halle crown.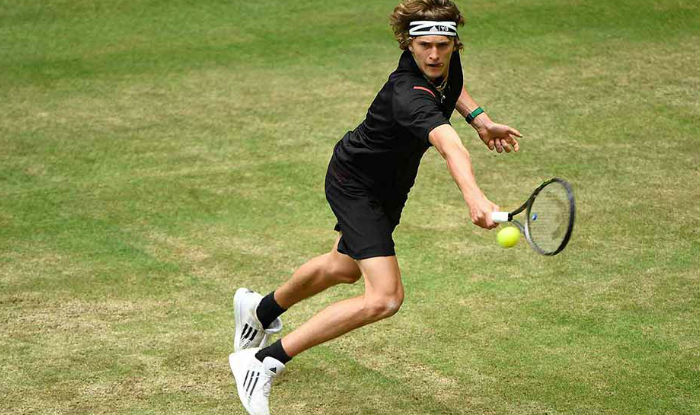 The Game Plan
Zverev will look to be aggressive while returning Federer's second serve. Moreover, he will want to stretch Federer to his right on the forehand wing. Federer has used his slice well on this low bouncing surface and that should play a major role in this final. The Ad-court backhand to backhand duel will be one to watch out for as Zverev, with one of the most consistent backhands on the tour, will trade blows with the variety of Federer's backhand coupled with the improved and more potent topspin single hander. This duel might go a long way in determining today's winner.
Federer will look to draw Zverev to the net with the help of the backhand slice. Most importantly, Federer needs to take his chances on break points, as he may have only a few opportunities to break the big Zverev serve. With both players serving quite well throughout the week, it may come down to who holds their nerves better in crucial moments as well as in the tiebreak, if there is one. It all comes down to one or two points in a grass court match that decide the match. All in all, it is set to be a cracker jack of a final as both players look to build momentum and confidence going into Wimbledon.