Judy Murray, Scottish coach and former Federation Cup captain will be delighted by the fact that her sons, Jamie and Andy, occupy the world No.1 slots in, the men's doubles and singles rankings respectively.
In this special, we take a deep dive into the ups and downs of Judy's life and that of the Murray brothers.
Humble origins and love for tennis:
Judy Murray was born in Bridge of Allan, Stirlingshire, as the daughter of Roy Erskine, an optician and former footballer who had played for Stirling Albion in the 1950s, and his wife, Eileen Shirley.
Growing up, there were no indoor courts in Scotland, so she played tennis in the summer and badminton in the winter. She won 64 titles in Scotland during her junior and senior career, and decided to have a go at the professional tour in around 1976. She gave up the idea of competing professionally as she was homesick and was robbed in Barcelona.
However, she had played against players such as Debbie Jevans and Mariana Simionescu. Her playing style did not have any big shots but she was quick around the court and read the game well. Now we know where Andy get his tennis IQ from.
Tennis coach and Honorary Doctor:
Judy then decided to go to Edinburgh University studying French and German before switching German in favour of business studies and represented Great Britain at the 1981 World Student Games. In 1981, she graduated in French and Business.
She began coaching and was the initial coach for both her sons before handing over the reins as they became professionals.
Aside from her own sons, she has coached multiple players at regional and national level under the auspices of the British tennis governing body, the Lawn Tennis Association (LTA).
In December 2011, she was elected to lead the British Fed cup team, and was awarded an Honorary Doctorate by the University of Edinburgh on 8 October 2013.
SHE TOOK THE JOB IN PART TO RAISE THE PROFILE OF FEMALE COACHES AND ALLEVIATE SOME OF THE SEXISM THAT REMAINS IN THE SPORT.
She resigned as Great Britains Fed Cup Captain in March 2016.
Proud mother of World Champions:
11.5 years as a professional
798 matches
42 career titles
1 sporting pinnacle reached@andy_murray is the new world No.1! 🌍 👏 pic.twitter.com/G9UKdVwt8y

— Wimbledon (@Wimbledon) November 5, 2016
But, if you were to ask her what her greatest achievement was, shed probably tell you that it was her kids becoming the tennis world champions in their respective fields.
While Andy has been the most successful and universally recognised of the two brothers, it was Jamie who pulled one over his sibling by reaching the World No.1 spot in mens doubles.
"IT WAS EMOTIONAL FOR ME AND LOVELY TO SEE JAMIE BEING RECOGNISED. FOR SO LONG HE HAS BEEN IN THE SHADOW OF ANDY AND SO IT WAS GREAT TO SEE HIM BEING THE CENTRE OF ATTENTION. AND ANYTIME I GO BACK TO THE TENNIS CLUB I FEEL THE MOST EMOTION. APART FROM A LICK OF PAINT, THE CLUB LOOKS EXACTLY AS IT WAS WHEN THEY WERE SMALL BOYS. I CAN SEE THEM RUNNING AROUND WHILE I WAS COACHING. I REMEMBER THEM PLAYING IN THE MEN'S THIRD TEAM WHEN THEY WERE QUITE LITTLE."

Judy Murray is nostalgic as she reflects on Jamies recent success
Tough situations and tougher decisions:
Judy and her partner William have never sat together at Andy's tennis matches, always travel to his tournaments and events apart, and lead separate lives.
They split up when Andy was nine, a year after Judy went into tennis coaching full-time. She has always led a more jet-set lifestyle than her husband, an area manager for Scottish newsagent chain R S McColl. She was the one who left home, and he raised Andy and Jamie for four years.
She confessed that at the time of their break-up: 'I was away a lot and then you're coaching until quite late in the evening. Your domestic life gets hit for six.' The pair were divorced after a nine-year separation in 2005.
The Murray brothers were coached initially by Judy and their variety of play and tactical acumen are rooted in her approach but a point came where she couldnt take them any further. She had become the leading coach in Scotland but her sons needed to travel abroad. Andy was still a teenager when the first move had to be made.
"AS SCOTLAND NATIONAL COACH MY STARTING SALARY WAS £25,000," SHE REMEMBERS. "WHEN ANDY HAD THE CHANCE TO TRAIN IN SPAIN WE HAD TO FIND A WAY. WE GOT A LITTLE MONEY FROM THE LTA AND TENNIS SCOTLAND BUT WE NEEDED £35,000 A YEAR FOR ANDY TO HAVE A DECENT RUN AT IT."
Judy had to apply for a £30,000 loan. She knew the consequences but decided to go ahead with it anyway.
"IT WAS A BIG RISK. I DIDN'T REALISE WHAT WE WERE GETTING INTO BUT I KNEW THIS WAS THE NEXT STEP HE HAD TO TAKE. A YEAR LATER JAMIE [15 MONTHS OLDER THAN ANDY] FINISHED SCHOOL AND WANTED TO GO TO FRANCE BECAUSE THEY HAVE FASTER SURFACES. SO THERE WAS HUGE FINANCIAL STRESS FOR ABOUT THREE YEARS. I CAN TALK ABOUT IT NOW BUT BACK THEN IT WAS HARD. I'M NOT SURE PARENTS UNDERSTAND HOW HORRENDOUSLY EXPENSIVE IT IS – AND THERE ARE NO GUARANTEES. FOR MOST KIDS PROFESSIONAL TENNIS JUST DOESN'T HAPPEN."
Judy also faced the inexplicably difficult task of sitting down with her eldest son Jamie in 2006 to tell him a brutal truth.
"I HAD TO TELL JAMIE IT WAS NOT GOING TO HAPPEN FOR HIM IN SINGLES. AT LEAST I COULD ALSO TELL HIM HIS SKILLS WERE SUITED TO DOUBLES."
April 2016: Jamie Murray becomes World No.1 Doubles player

November 2016: Andy Murray becomes World No.1 Singles player#BrotherGoals 💪 pic.twitter.com/uUFLbg9GRy

— BigSport (@BigSportGB) November 5, 2016
That summer, Murray dug deep into her savings to entice a doubles specialist coach, Louis Cayer, to work with Jamie.
I TOOK LOUIS ON FOR SIX WEEKS BECAUSE IT WAS ALL I COULD AFFORD BUT HE IS RESPONSIBLE FOR SETTING JAMIE IN THE RIGHT DIRECTION. I'VE WATCHED JAMIE GET BETTER AND BETTER. YOUR INCOME IS SMALL IF YOU'RE NOT WINNING THE BIG TOURNAMENTS. HE ALSO STARTED WORKING WITH A SPORTS PSYCHOLOGIST TO MANAGE HIS EMOTIONS BETTER. THE INVESTMENT IN HIMSELF HAS PAID OFF."
And then there was Andy. It was pretty clear that he had incredible talent and natural gifts. But without discipline and proper guidance, it wouldnt have mattered. After all, weve seen much more talented players amount to nothing in the tennis world.
But Judy was always there for Andy. Despite Andy's players box not being the best place to be in the world, Judy was cheering for him whenever possible.
As a single mother, after her split with William, Judy had her work cut-out. But she managed to come through for her boys when it mattered the most. And the results are rewarding and intensely satisfying.
Andy's marriage to Kim: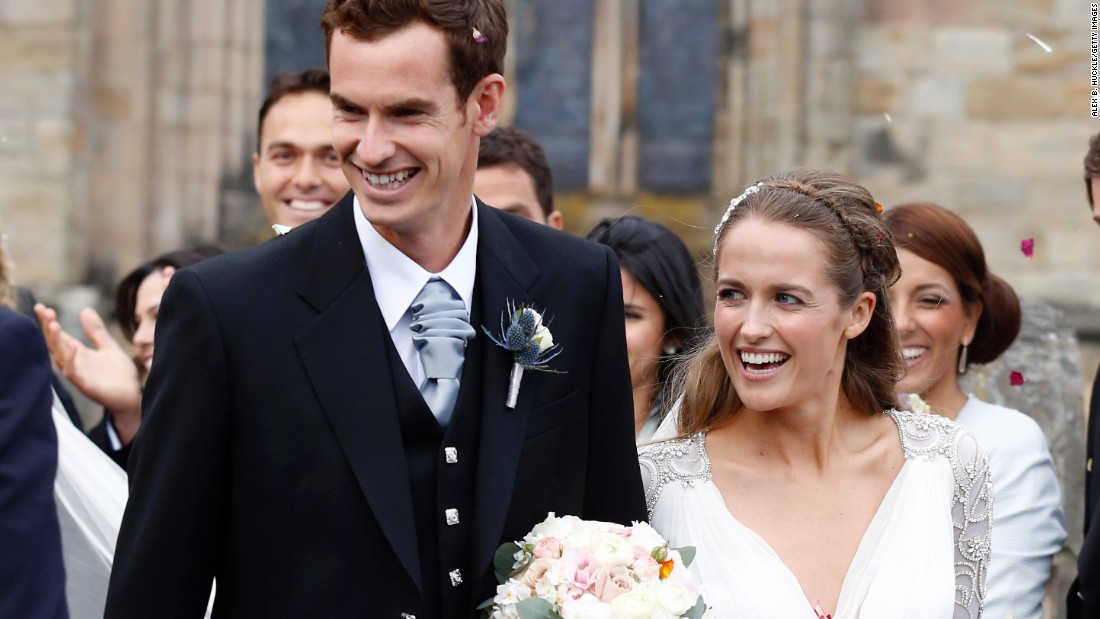 Andy Murray tied the knot with long-term girlfriend Kim Sears in 2015. The fans had lined the streets of Andy's home town for hours.
It was dubbed Scotlands royal wedding and as the bridegrooms mother, Judy couldnt have been more proud.
I THINK THE WEDDING MADE ME MORE PROUD THAN HIS 2013 WIMBLEDON WIN. I MEAN IT WAS JUST SUCH A HAPPY FAMILY OCCASION. IT WAS THE PERFECT DAY FROM START TO FINISH EVEN DESPITE THE HAILSTONES AND THE SNOWSTORMS THAT WE HAD DURING THE COURSE OF THE MORNING. IT WAS LOVELY, JUST LOVELY.
After all, Judy knows the value of family. Andy welcomed his baby daughter Sophia Olivia, a few months later and it has all been bliss since then.
It could've been over before it began:
The fateful day 20 years ago, March 13, 1996, is not a subject Judy finds easy to talk about. She knew Thomas Hamilton, the gunman who killed himself after taking 17 lives at the Dunblane School, and had given him occasional lifts in her car.
Judy also knew the mothers who lost their children. While they were waiting in a school room for the police to tell them what had happened, there she was hugging her two children tight.
"THAT WAS VERY HARD. YOUR IMMEDIATE REACTION WHEN YOU REALISE IT'S NOT YOUR CHILD'S CLASS IS RELIEF AND THEN THERE IS ENORMOUS GUILT BECAUSE PEOPLE YOU KNOW ARE ABOUT TO SUFFER. IT'S THEIR CHILD'S CLASS. YOU NEVER FORGET THAT MOMENT.

YOU NEVER FORGET WHAT YOU COULD HAVE LOST THAT DAY AND IT MAKES YOU APPRECIATE WHAT YOU HAVE. IT'S 20 YEARS AGO AND THE TOWN HAS RECOVERED. NO ONE EVER FORGETS BUT THE BOYS' SUCCESS HAS GIVEN DUNBLANE A LOT OF PRIDE. FOR ME IT'S ALWAYS A REMINDER OF HOW FORTUNATE WE ARE AND HOW IMPORTANT IT IS THAT THE BOYS REMAIN GROUNDED AND HARD-WORKING. IT'S THEIR WAY OF SAYING: 'THIS IS WHERE WE ARE FROM, THIS IS WHO WE ARE …'"
You've come a long way baby 1️⃣❤️ pic.twitter.com/VEIVl6NsxA

— judy murray (@JudyMurray) November 5, 2016
As a mother, she couldn't possibly have asked for more from her children. And her current goal, is to build a tennis centre in Scotland to spread the game in her homeland. While her initial petition was turned down by the authorities, she has appealed to the Scottish government and hopefully things will go her way this time.
Regardless, we wish the Murray's a great time ahead and many more accolades to come.