On Wednesday, Roger Federer officially unveiled the Rafa Nadal Academy by Movistar as the guest of honour in the Spaniard's hometown at Manacor, Mallorca. The massive academy which covers 24,000-square meters, opened its doors in June, bringing 140 additional jobs to Manacor.
In this brief piece, let's see what Nadal hopes to achieve this monumental undertaking.
What they want to achieve
The academy, which opened for business in June, combines tennis training with schooling for promising players from the age of 12-18. Equipped with the latest technology, the American International School for children aged 10 to 18 years of age, hopes to help its students who don't turn professional after leaving the academy to find scholarships to study at universities in the United States.
There are also 26 indoor and outdoor tennis courts, a fitness center, two swimming pools (indoor and outdoor), mini-football pitches, three regulation multi-sport courts, 10 paddle tennis courts, a restaurant and café bar, pro shop and gardens in addition to a clinic specializing in sports medicine, physiotherapy and nutrition.
"I DON'T KNOW HOW MANY PLAYERS OF RAFA'S CALIBRE HAVE AN ACADEMY," SAID ROGER FEDERER, WHO WAS THE GUEST OF HONOUR AT THE LAUNCH.

"I SEE HIS DNA ALL AROUND, AND THAT'S AN INCREDIBLE BONUS. IT'S A SPECIAL PLACE. HIS WORK ETHIC IS RIGHT UP THERE AT THE TOP, AND HE'LL BE ABLE TO SHARE HIS EXPERIENCES. IT'S VERY EXCITING… I'M PROUD TO HAVE BEEN HERE TODAY."
ATP Executive Chairman & President Chris Kermode also attended the event alongside ITF President David Haggerty, Wimbledon Chairman Phillip Brook, David Brewer, Director, Pro Circuit and US Open Referee; and José María Álvarez-Pallete, Chairman & CEO of Telefónica.
NADAL DESCRIBED IT AS "A PROJECT THAT MY TEAM AND I HAVE WORKED TOWARD FOR YEARS. I AM GRATEFUL FROM MY HEART, IT IS A VERY SPECIAL DAY FOR ME."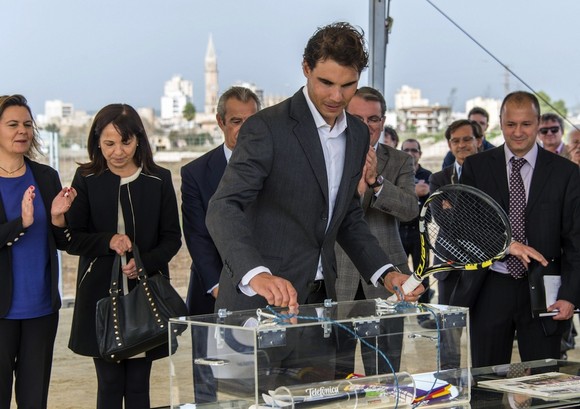 "MY FUTURE IS HERE," SAID NADAL. "I DON'T IMAGINE MYSELF LIVING AWAY FROM MALLORCA. THE SPORT IS MY PASSION AND CREATING THIS TENNIS ACADEMY IS THE MOST IMPORTANT PART. YOU CAN ALSO PLAY LOTS OF DIFFERENT SPORTS HERE. I BELIEVE THIS IS A CENTER THAT KIDS NEED. I WILL BE VERY INVOLVED.

"THERE IS ALSO AN INTERNATIONAL SCHOOL, WHICH IS IMPORTANT TO MAINTAIN THE ACADEMIC SCHEDULE. THE TEAM OF COACHES HERE [DIRECTED BY TONI NADAL] HAVE A LOT OF EXPERIENCE IN OUR PROFESSIONAL SPORT AND, ALSO, THE KNOWLEDGE TO TEACH THE KIDS THAT TRAIN AT THE ACADEMY. I'D LIKE TO MAKE THIS A CENTRE OF TENNIS FOR EVERYONE AROUND THE WORLD."
What's so novel about the idea
The most important and novel thing about the whole academy, is the part where Nadal stresses on education for kids, instead of being an exclusive sports centre.
Federer sounded out a piece of wisdom during his speech, pointing to the many trainees in the academy, not all of you may get the opportunity to win a Grand Slam.
While some people may find it discouraging, it's an extremely practical and important point. There are thousands of players who want to win a Slam title, but only 4 such tournaments are played in a year meaning that the probability of someone achieving success at that level is very low.
Nadal also repeated this sentiment in an interview:
Reporter: Señor Nadal, suppose you had attended your own tennis academy when you were a teenager. Would you have won more than 14 Grand Slam tournaments today?
Nadal: No, it would be presumptuous of me to assume that. We dont promise the kids that they are going to win this or that title in the future, either.
Reporter: Only very few children in your academy will make the leap to become professional players. What about the others?
Nadal: Hopefully they will not regret having been here despite that. We try to teach the young people values that are useful to them whether they become professional athletes or not.
Reporter: Suppose one of your pupils asked you: I want to become number one in the world, what must I do? What would your answer be?
Nadal: Most probably: Forget it!
Reporter: Why?
Nadal: Because its very difficult, and because it should not be a child's only goal to become the best player in the world. That would be a bad, a harmful attitude. They may not even make it into the sport.
I would tell the child: Dont think about being the number one in the world, try instead to get through todays program as well as you can. Then we will see whether one day you'll end up as number one or number 100.
It's great if you succeed in tennis like Federer and Nadal did, but it's always good to have a fallback plan B to carry you forward in life. Even if you succeed, you can only play tennis for as long as the mind and body cooperate.
Education, on the other hand, is an eternal blessing and will live on with these kids as they grow up, helping them with both significant and trivial things in life.
We wish Rafa the best of luck with the academy as he gives back to the sport that has given him everything. And we wish the very best for the kids, whose future is being shaped inside the premises of his academy.
May future champions and great human beings alike arise from the Rafa Nadal Tennis Academy by Movistar.