It was the Williams family show one more time at Wimbledon. Venus Williams got her hands on a major trophy for the first time in many years in the doubles final with sister Serena hours after the younger sister played the singles' final on Center Court.
Two greats side by side…#Wimbledon pic.twitter.com/t4hbLjmJ96

— Wimbledon (@Wimbledon) July 10, 2016
This time, Serena Williams wouldn't be denied in her bid to win #22 after a wait of three grand slams.
The quest for #Serena22 ends here…
Deprived of the record tying title at the AO and FO finals this year, Williams reached #22 here by defeating a dogged Angelique Kerber 7-5 6-3 in a high-quality Wimbledon final. It was Kerber who beat Williams in Melbourne in January but the world No. 1 turned the tables on the grass at the All England Club with a clinical display of power tennis amid windy conditions.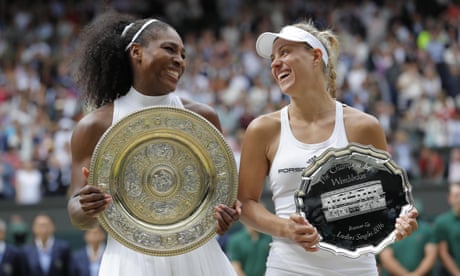 Elated at her victory, Serena explained her predicament with the noose around her neck being finally loosened:
"I have definitely had some sleepless nights with a lot of stuff, coming so close and feeling it and not being able to get there. This tournament I came in with a different mindset. In Melbourne I thought I played well but Angelique played great, and better. So I knew going into this one I needed to be calm and be confident and play the tennis I've been playing for well over a decade."
Williams didn't want to dwell on the next step up the ladder, especially since she endured struggles to win her 18th major — tying Chris Evert and Martina Navratilova — and the 22nd.
"One thing I learned about last year is to enjoy the moment," said Williams. "I'm definitely going to enjoy this."
Unfortunately, yet another title quest will haunt Serena soon enough. Talk is already centering on the American attempting to get to Margaret Court's 24 grand slams, the all-time record. Court was in attendance Saturday.
Venus Williams still has the fight:
Holding trophies never gets old…#Wimbledon pic.twitter.com/YzXvFuIVZH

— Wimbledon (@Wimbledon) July 9, 2016
The Williams sisters don't do cute and cuddly, they just win titles and break records. A few hours after her record tying match, Serena Williams joined her sister Venus to win their sixth Wimbledon title together and their 14th in all. Sixteen years after their first triumph together, the sisters beat Timea Babos and Yaroslava Shvedova 6-3, 6-4.
Four years after their last Wimbledon title together, Serena and Venus are now 14-0 in grand slam finals. It is the fourth time Serena has won both titles in the same year, while Venus had done the double twice herself. And to think, they only really played together this year to get themselves in shape for the Olympic Games, where next month in Rio they will try to win the gold medal for the fourth time.
In the early part of their careers, Serena and Venus were a familiar fixture in the doubles at the grand slams and their sheer power was usually enough to see off most pairs who played a more traditional form of doubles. For the Williams sisters there are no behind‑the-back signals, they simply hammer the ball with too much power for their opponents to cope with.
Siblings setting the standards.

Venus and Serena collect their 14th major doubles title…#Wimbledon https://t.co/assaOZoK1e

— Wimbledon (@Wimbledon) July 9, 2016
However, when Venus was diagnosed with Sjogren's syndrome in 2011 their appearances became fewer and further between.