The Davis Cup is off His Radar
In 2015, Andy Murray wanted to reassert his place at the top of men's tennis. Injuries sidelined Murray at the end of his spectacular 2013 season, and much of 2014 was spend recovering ranking points at any cost. He ended that season with a 6-0, 6-1 loss to Federer at the World Tour Finals, but the grit he exhibited to get to the year's last tournament helped reanimate his play. The entirety of the 2015 season, Murray steadily improved, but his focus increasingly became winning the Davis Cup for Britain. Murray often played singles and doubles in Davis Cup ties and his exhausting effort in the summer and fall resulted in Britain's first Davis Cup win since 1936 and slightly worse results for Murray in other tournaments. The effort Murray put in almost singlehandedly securing that title for his country left him psychologically and physically depleted – even in grand slam play he was not himself, as evidenced by his 4th round loss to Kevin Anderson at the U.S. Open. With that accomplishment behind him, Murray will be intensely focused on burnishing his legacy further and adding to his grand slam tally.
A Full Season of Quality Tennis
Tired though he may have been at points during 2015, Murray can take heart from a full season of injury-free, high quality tennis. The Scot was only stopped by Federer and Djokovic in major tournaments (excepting his loss to Anderson), and handily dismantled many of the other quality opponents he faced on tour. He was also one of only four players to defeat Djokovic in 2015. The self belief that will come from a hard fought, successful season could help Murray find his best game.
Six Strong Performances
Murray has played well so far at the Australian Open. He has faced off against tough opposition in his last three matchs starting in the fourth round with talented Aussie, Bernard Tomic. He then fought hard against David Ferrer and Milos Raonic, two dangerous players, en route to the final. In all of these matches, Murray displayed his superior court coverage, and strong aggressive baseline game. Another feather in Murray's cap from the earlier rounds is his 6-0 set against ace master Sam Groth.
Returning Serve
Novak Djokovic is known as one of the best returners tennis has ever seen. Murray too is a skilled and dangerous returner. During the Australian Open the Scot's return game has been particularly strong. In his matches against big servers (Groth and Raonic) he found ways to break multiple times. It is notable that, though the match did go the distance, Murray broke Raonic in every set he won, twice in the decider.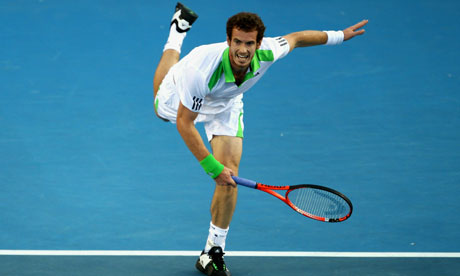 Improving Stats
Milos Raonic is a strong player. The form he has displayed so far in 2016 is some of the best of his career. Facing the threat of an in form, hard hitting power-server, Andy Murray not only played as well as he had throughout the tournament, he actually improved his serving stats, and his returning stats. Any player hopes their quality of play improves as a tournament goes on, and that has been true of Murray.
Raw Hunger
Andy Murray has contested 8 grand slam finals. He has only won two. Four of those defeats have come at the Australian Open. Three of those four have been at the hands of Novak Djokovic. Murray will be itching for the contest and ready to prove that he can best his more successful contemporary. Murray, ever the threat, will be ready to fully commit physically and mentally to a contest against Djokovic.
These six factors do not make Murray the favorite, but, Djokovic cannot assume that he will march to the final simply because he is facing Murray. Judging from how matches have gone between the two in the past, a thrilling contest is ahead. If Murray plays with aggression, takes chances, and holds his emotions in check, he has a real chance at beating Djokovic.