It's that time of the year again. Lush green, fast & slippery grass has replaced the slow & punishing crushed brick. Herringbone gripped soles are given up in favor of pimple soled "tennis" shoes. With all that, comes a dramatic reversal of fortune for the players on tour. The big servers become unplayable, and baseliners look out-of-sorts more often than usual. Attacking net play and skidding slices will prevent most counter-punchers from doing what they do best.
But, more importantly, it's also the time when one man unleashes his unplayable self. The adopted son of the Centre Court, Roger Federer. He's the greatest grass court titan of the open era with an incredible 15 titles on grass and the highest grass court winning percentage in history.
Unfortunately, Father time is an unstoppable force. Even a transcendent athlete like Federer isn't impervious to the hour-glass juggernaut. The almost 34-year-old Federer, is in the twilight of his legendary career.
Unquestionably, sudden flashes of genius and class still ooze out from his raquet. But those moments are dulled by increasing streaks of inconsistency. Today, Federer can't go on court and summon his unplayable best like he could during his prime. And that tall peak he once reached is slipping further out of view by the day.
Three years (or what must seem like an eternity to him) have passed since Federer won his 17th Grand Slam title. He's been unable to barge from that number, reaching only one additional major final. He came tantalisingly close last summer to ending that drought, yet he fell short against Novak Djokovic in their epic final at the All England Lawn Tennis Club.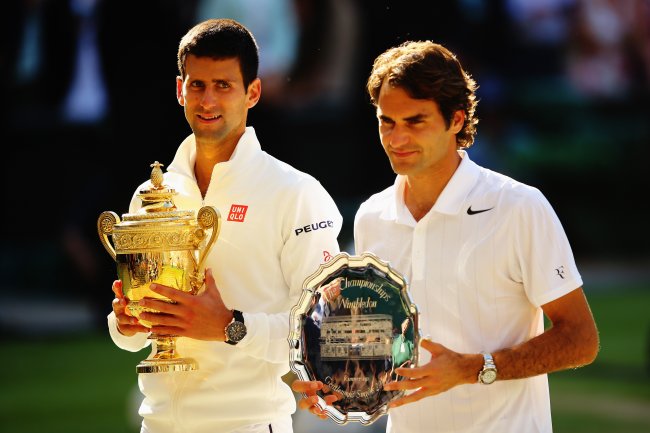 At this stage, his performance at every Grand Slam takes on an added weight. Not only is Federer trying to extend his total, he's also seeking to hold off Rafael Nadal from surpassing his all-time record.
When Federer beat Andy Murray for the 2012 Wimbledon title, it was seen as potentially the beginning of a late-career surge. Unfortunately that thought never came to fruition.
Prone to lacklustre performances lately (especially against hard-hitting baseliners), Federer has tried incredibly hard to end his drought. He switched to a larger frame in 2014, and  Stefan Edberg, his childhood idol, was brought into the coaching team. He adjusted his strategy, favoring more net approaches to keep points short and spare his body.
However, being forced to play best of five set matches every other day at a major event now takes a harsher toll on him physically than it once did.
He had a golden chance at Roland Garros this year, somehow avoiding Djokovic, Nadal and Murray in his half. Yet those dreams were foiled by his Swiss compatriot, Stan Wawrinka. That loss added more credence to the prevailing notion that Wimbledon will be his most realistic shot to add another major.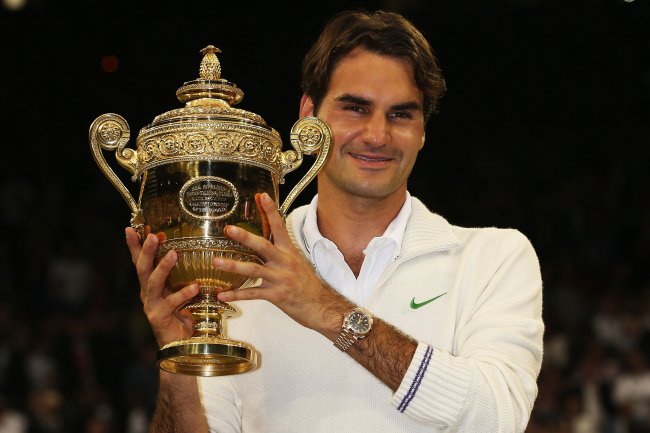 However, what could further up his chances the next few weeks are the dilemmas facing his stronger opponents. Djokovic was forced to bite the dust at the French Open after watching his hopes for a career Slam drift away into a dream. Murray has had recent success at Queen's club but didn't face any top 10 player  on his way to the title.
Despite winning Roland Garros 2015, Wawrinka, isn't the most reliable grass-court player and has a poor record on the surface. 2-time champion Nadal has become beatable on clay, meaning his chances at SW19 are even slimmer. However, Nadal being seeded low is likely to meet Federer earlier than the SF. We all know how mentally troublesome Nadal is for Federer, on any given day.
Provided a good draw like last year, Federer could end up with a clear shot at GS title #18. Whether or not he nails the shot is entirely upto him. In terms of his tennis, the 1st serve, volleys off both wings, inside-out forehand and backhand down-the-line all need to click in a big way for a title run at SW19.
Although Federer doesn't plan on retiring anytime soon, if he does indeed make it happen at Wimbledon 2015, it'll be the greatest fairy tale run in the history of sports; a fitting finale for a legendary career.